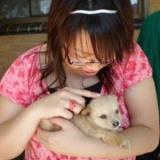 Chonny's sister (Jenny Luc) has not gotten a full view and recognition from Chonny's videos.
As a confirmation, Chonny's sister is NOT bubzbeauty (makeup guru on YouTube) because Bubz's real name is Lindi, and Chonny's sister's name is Jenny. Also, if you look in Bubz's background (her home), it looks nothing like Chonny's, and apparently the two siblings live in the same house. 
It's unconfirmed what Chonny's real sister looks like, but the picture to the right is just a guess.
(About the photo)
She looks similiar to Chonny, doesn't she? :o